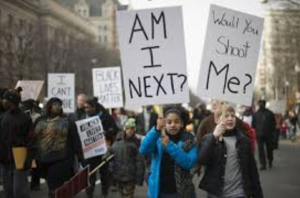 Our Children Are Old Enough to be Killed by the Police – Part 2
Answers to questions that have received national attention.
You have an 11-year-old son. Are you deathly afraid he can wind up another statistic even if he does nothing wrong? I have great concern and angst that my son, your son, your nephew, daughter, niece, or your loved one will wind up a statistical victim of violence.  This is about being concerned about someone you love more than yourself being taken away from you for reasons that don't make sense. My son is a black male. The world is going to treat him differently. We can prepare him for that challenge. But I have to prepare for how to interact with the police, because initially and often they will only see a black male and all the stereotypes the officer chooses to harbor.    Additionally, most people think that police violence will never happen to them because after all, they are law-abiding citizens. The only time most citizens come in contact with the police are for traffic stops or when they're in need:
30-40% of those killed by the police started off as a simple traffic stop or as a domestic call.
20–30 % of those killed by the police were unarmed
As an ER doctor of two decades in a busy urban area, what did you witness to inform your impressions of the interactions between the police and citizenry, specifically with young black males? Often, by the time the officers and the assailant arrive to the ER they have already managed through the more aggressive phase. Hence, my perspective is different and if the arrestee is injured, he is more focused on his life than the police interactions. Often, I experience an intersection of the black male and police officer, finding common ground especially for those arrested when the officer had other options.  The exchange between the officer and the arrestee is more about seeking clarity and explanations. When there were clear undeniable reasons for the arrest, the intersection of the officer and the black male is more confrontational. The officer is more aggressive and judgmental. The black male is often more defiant, often related to the aggressive manner of the arrest.
So, you say that your book doesn't look to prosecute cops nor make people feel like victims. Rather, you simply seek to save lives and not risk unnecessary injuries during police-citizen interactions. Why is such a book needed? The book is needed because the Unites States has more police killings of citizens than any other industrialized country in the world and black males are killed at a disproportionate rate than their peers I get it, the police want to make it home alive and often their motto is, "I would rather be judged by 12 than carried by 6."  Police first want to feel safe and then respected. If the police feel threatened, they are trained to react with a force that is greater than the perceived threat.  There are 3.4 citizens killed by the police each day. There are even significantly more citizens who are injured by the police each day. It is sad and unfortunate that a book of this nature is needed. But until the problem of police killings are fixed we need a bridge to help slow the killings.  We all have to play a part. For example, if citizens can calm themselves  and slow things even before the stop and during the interaction then there is a greater likelihood that officers will feel less threatened and have more time to react in non-life-threatening situations. The way we calm ourselves is to prepare for the interaction now before the stop.
What would you say in response to African-American activists who may feel you are silencing their narratives in police-citizen relations? Where do you think the tension stems from?  I would say that their narrative exists within my book. My book does not change any group's activism. In fact, it is because of the book that their activism can exist and flourish.   Let's be clear, from my perspective, a traffic or police stop is not the time for activism. It is the time to change your focus and go into survival mode. It is the time to figure out how to make it home alive and unharmed. You know what they call a dead activist? Dead!  You know what they call the parents of a dead activist? A person experiencing a pain worse than death. It is an inconsolable pain. A pain so deep that their heart literally hurts.
Take home point: You can fix what happens or what is done to your child during the stop. But we can't  fix death. It is always best to live to fight a different way anther day.