Meet Geoffrey Mount Varner, MD, MPH.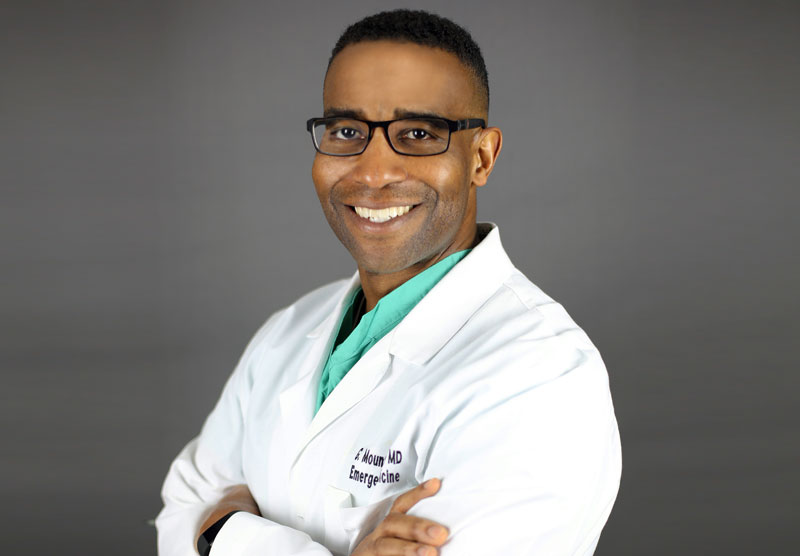 Stay Connected with Geoffrey
Geoffrey Mount Varner, MD, MPH, FACEP, has 20 years of experience in emergency medicine and is a leading authority on saving lives.
He founded Lifeline Medical, LLC, in Bowie, Maryland, in 2004, which consults with hospitals and health-related companies. Additionally he still practices in the Washington metropolitan-area . He's also served as the attending physician for the ER at Southern Maryland Hospital and St. Agnes Hospital in Baltimore. He was an attending physician for the Dept. of Surgery at University of Maryland Medical Systems.
He served as the chairman of Emergency Medicine for Howard University Hospital for seven years until the mayor of Washington, D.C. recruited him to become the city's medical director and assistant fire chief for EMS.
Dr. Varner's received numerous awards and honors, including the Mayor's Citizen Award, District of Columbia Hospital Association STEM I Award, State of Maryland Governor's Citation, and Prince Georges County Department of Health Citizens Citation (for work with disadvantaged black males).
He is a Hampton graduate and earned his Masters in Public Health from Harvard University School of Public Health.  Dr. Varner is an active member with American College of Emergency Physicians, Urgent Care Association of America, and American Academy of Emergency Medicine. He is also a member of Alpha Phi Alpha Fraternity, Inc.
Dr. Varner is the author of Home Alive:  11 Must Steps to Surviving Encounters with the Police.
When he's not treating patients and advocating on behalf of them, he's running marathons in Chicago, New York City and the Marine Corporation.  He's also completed several triathlons. He resides with his wife, 14-year-old daughter, and 11-year-old son in Mitchellville, Maryland.
Q & A
Home Alive
Dr. Varner, what inspired you to write Home Alive

? As a practicing ER physician of two decades who used to run a level-one trauma center in an urban environment for several years, I bring a unique perspective to the debate of how we can save lives when civilians interaction with the police. I have seen too many casualties that have come as the result of civilian-police confrontations. I have an 11-year-old son who is old enough to be killed by the police. When a recorded video killing of a young black person at the hands of the police surfaces, I make my kids sit and watch the video with me and we use the media story as the basis for our ongoing police relations conversation. After one of the videos my son asked me: "What are you doing about this, Daddy?" This is my answer to that question.

What makes your book different? You are not a lawyer or in law enforcement, so what makes you qualified to speak on this?

I am an emergency medicine physician, a Harvard graduate, a father and someone who sees the impact and pain from death every time I go to work. I uniquely know that regardless of the who, what, when, and where of death, there are people who are left to endure the unending pain of having lost a loved one. My unique perspective based on seeing sudden death and violence in the ER combined with the fact that I have two siblings who were both former prosecutors and are now sitting judges, I have a perspective that no one else can have in the world. There is not a law, or even two laws, that can be passed that will suddenly stop the American crisis of police killings and deaths. This crisis is going to take years to solve. In the meantime, 3.4 citizens are being killed per day, with a disproportionate number being young black males. And a disproportionate number of the young black males are unarmed. We have an American crisis. We are the cavalry. We must immediately start saving lives.  Based on over 2,000 hours of research and interviews, I developed a survival tool kit that will immediately begin to save lives.

You have an 11-year-old son. Are you deathly afraid he can wind up another statistic even if he does nothing wrong?

I have great concern and angst that my son, your son, your nephew, daughter, niece, or your loved one will wind up a statistical victim of violence.  This is about being concerned about someone you love more than yourself being taken away from you for reasons that don't make sense. My son is a black male. The world is going to treat him differently. We can prepare him for that challenge. But I have to prepare for how to interact with the police, because initially and often they will only see a black male and all the stereotypes the officer chooses to harbor.    Additionally, most people think that police violence will never happen to them because after all, they are law-abiding citizens. The only time most citizens come in contact with the police are for traffic stops or when they're in need:

30-40% of those killed by the police started off as a simple traffic stop or as a domestic call.

20 – 30 % of those killed by the police were unarmed
For more Q & A from Dr. Saving Lives, click here: More Q & A