POLICE RELATED DEATHS DATA
Every year there are thousands of police-related deaths in the United States.  The term police-related deaths mean that if anyone has died who was either a police officer or was killed by one. As a result, this includes murder-suicide incidents involving police officers.
Graphs and Charts
Below is the complete data analysis for police-related deaths since 2000.  The data is comprised of 23,970 records.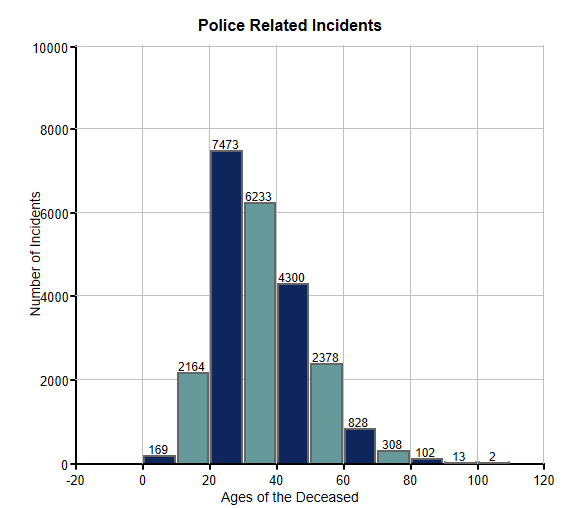 This graph shows the spread of the ages of the subjects killed. The data is arranged by a class width of 10, so we can easily see the ages of the deceased.  As you can see many of the subjects' ages revolve around 20 to 30 years old individuals.  This shows that our youth are at higher risk of being in a deadly police situation than other ages.
| Ages | Number of incidents |
| --- | --- |
| 0-9 | 169 |
| 10-19 | 2164 |
| 20-29 | 7473 |
| 30-39 | 6233 |
| 40-49 | 4300 |
| 50-59 | 2378 |
| 60-69 | 828 |
| 70-79 | 308 |
| 80-89 | 102 |
| 90-99 | 13 |
| 100-109 | 2 |