Kaepernick Stood Up for Those Who Did Not Survive Police Encounters – Part 2
The National Football League owners and leadership have not signed Collin Kaepernick after he held personal and quiet protest concerning the killing of black and other innocent lives by the police.
Quarterbacks are often ranked on what is known as the quarterback rating, QBR. As of this past Sunday, of the 81 rostered quarterbacks on NFL teams Kaepernick's rating was higher than half of the 81. Additionally, of all the starting quarterbacks in history Kaepernick is ranked in the top ten of the least interceptions thrown.
In short, the NFL decided to ostracize, punish, and exclude Kaepernick simply because he stood up for Americans, especially black males, being killed by the police. Let's go deeper… Of the 32 NFL teams none of them have a black owner or have a black CEO. In other words, the NFL leadership does not go home to sons that look like seventy four percent of their players. The American crisis of blacks being killed by the police at a disproportionate rate does not seem important to the NFL.
Thus, in my household we are going to "black out" the NFL on Sundays.   After I told my 11-year-old son he said with tears in his eyes, "daddy, the games are still going to be played". I added and "the NFL is still going to make billions of dollars and Kaepernick will still not be signed".  I was further inspired after going to church.
I further explained to my son: We support America and all the greatness that America has to offer. We highlight that black lives are just as important as any other life too.  We also understand that lives have been lost, bloodshed, and wars have taken place to preserve the right to pursue our dreams in this country. We have even written about the disparities that exist between black and white encounters with the police.  In fact, we talked about what is meant that "young black men were nine times more likely than other Americans to be killed by the police".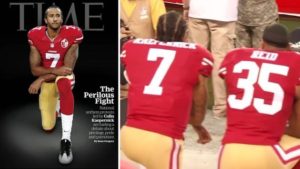 Right now it is about 3 things:
It is a matter of self-respect. It would be hypocritical and un-American for us to support black and American issues. Then turn around and support an organization that will protect criminals but won't hire Kaepernick because he stood up for injustice. Kaepernick stood up for America.
Stewardship – it is about management of our time. We are not going to use our time and watch a corporation that appears to minimize black lives unless that black life has a helmet and shoulder pads on.  It is up to Americans to uphold the aims of our country.
Solidarity – we must "black out" in support of injustices that go on all over the country. "If we don't stand for something, we will fall for anything".
My boy came home from school  Monday after debating his friends about the need to "black out" the NFL. He was fired up and even more in agreement. But then he added, "daddy, you are right, we can't just let people kill us, we have to stand up for us. But can I at least watch the ESPN highlights".
My response: Son, tell your friends that if they were committed to Americans the way we are, they would also stand up for what has become an American crisis. And remind those who are not tanned the way you are that although a disproportionate of those killed by the police are black there are whites who are being killed also. Remind them that if 30 – 40% of those unarmed killed by the police are black. It means that 50-60% of those unarmed who are killed by the police are not black.
Finally, it is my hope that the NFL will use this as an opportunity to address the issue of deadly interactions with the police.